Building automation systems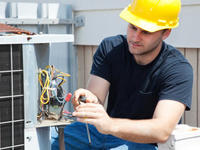 How can the collection of the technical management parameters of the buildings be computerized?
Omega Mu is a company specializing in the technical management of buildings. All of the technical installations (air conditioning, heating, lifts, lighting, alarms, and video surveillance) of the buildings being managed are equipped with automatic measuring systems. Omega Mu would like to collect the data output of these systems automatically, in order to facilitate the management of the different buildings.